History
PROCON ENGINEERS history dates back to the year 1973 when it was promoted by R.K Engg Corporation which was established in 1969.

R.K Engg Corporation - Thane were the pioneers in the field of Control Valves with the product ranging from Conventional Control Valves viz. Globe Valves, Bellow Sealed Valves, Angle Valves, Butterfly Valves, Ball Valves, Pressure Reducing Valves, AOM Valves, in addition to Diaphragm Control Valves commercially known as Saunders Type Valves.

As the business increased specially for Diaphragm Control Valves and in order that the attention for the production of Diaphragm Valves is not diluted, separate company, "Procon Engineers" was formed exclusively for the manufacturing of Diaphragm Valves to cater the market demands in a better way, keeping other product manufacturing activities at R.K. Engg Corp now known as R.K.Control Instruments Pvt Ltd .

Now we have grown as leaders in the Diaphragm valves, Our valves are satisfactorily working more than 25 country in Asia, S. E. Asia, Australia, Middle East, Europe, etc. industry.
Types of valves weir straight through
Basically manufacturing two types of valves namely weir and straight through Pneumatic and Manually operated Diaphragm valves. Material of construction are cast iron, cast carbon steel,cast stainless steel and other alloys with in-house paint booth.
Industries
Procon Diaphragm valves have been used in all types of industries such as petrochemicals, pharmaceuticals, power, refinery, fertilizer, steel, sugar, thermal and nuclear plants, food and beverages, mining, water and waste treatment industry etc. Valves have been internationally approved by various consultants and by third party inspectors.
Production capacity and sizes
Procon Engineers situated in the heart of Industrial activity, Andheri, Mumbai , having annual production capacity of over 10,000 nos Pneumatic . Manually operated Diaphragm valves, of sizes ranging from 15mm to 350mm. Our Valves are satisfactorily working in more than 25 countries in Asia, S E Asia, Australia, Middle East, Europe, e.t.c.
Pneumatic Valves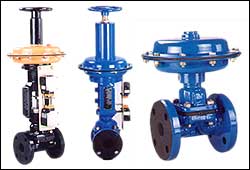 Manual Valves